SEPTICFLESH will join fellow dark spirits MOONSPELL for a string of European dates in spring 2015!

The tour will start at the Doornroosje in Nijmegen, The Netherlands on the 12th of March 2015 and proceeds to haunt Belgium, Germany, Switzerland, Italy, France, Spain, possibly Portugal and Luxembourg before the final show at the Underworld in London, UK on April 2nd.
12 Mar 15 Nijmegen (NL) Doornroosje
13 Mar 15 Haarlem (NL) Patronaat
14 Mar 15 Vosselaar (BE) Biebob
15 Mar 15 Darmstadt (DE) Steinbruch Theater
16 Mar 15 Essen (DE) Turock
17 Mar 15 Hamburg (DE) Knust
18 Mar 15 Berlin (DE) K 17
19 Mar 15 München (DE) Feierwerk
20 Mar 15 Pratteln (CH) Z 7
21 Mar 15 Vevey (CH) The Rocking Chair
22 Mar 15 Romagnano Sesia (IT) R´n´R Arena
23 Mar 15 Lyon (FR) CCO
24 Mar 15 Toulon (FR) Vox
25 Mar 15 Barcelona (ES) Razz 2
26 Mar 15 Madrid (ES) Shoko
29 Mar 15 Santiago de Compostela (ES) Capitol
30 Mar 15 Toulouse (FR) Metronum
31 Mar 15 Paris (FR) Trabendo
01 Apr 15 Esch sur Alzette (LU) Kulturafabrik
02 Apr 15 London (UK) Underworld
SEPTICFLESH will be touring in support of their critically acclaimed album 'Titan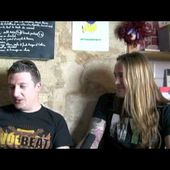 Septic Flesh video interview part I
Metal Interview by loudtv.net with Fotis from the Greek band SEPTICFLESH, one month after the release of their splendid 8th album entitled "The Great Mass" + Live parts from the Paris Show in the ...