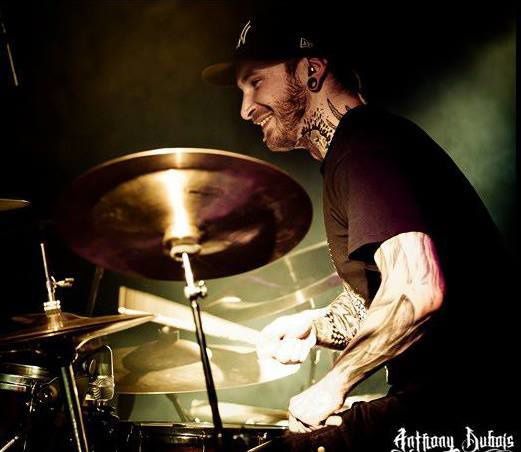 IMPORTANT ANNOUNCEMENT!
Français: Comme certains le savent, notre batteur Kévin Foley a été appelé à jouer dans le groupe norvégien Abbath courant de cette année, et même si cette aventure se termine pour lui, il est contraint de quitter Benighted pour de bon pour des raisons professionnelles. Nous sommes en même temps tristes et très heureux pour lui, et tellement fiers de chaque moment passé ensemble durant ces 10 dernières années !! Tu nous manqueras Kikou et on te souhaite tout le meilleur pour la suite car tu le mérites plus que personne ! La tournée européenne avec The Black Dahlia Murder sera donc sa toute dernière au sein de Benighted et on compte sur chacun de vous pour venir foutre le bordel sur les dates et lui montrer votre soutien ! Brothers for life!
English: As some of you might already know, our drummer Kevin Foley was playing drums for the norvegian band Abbath this year, but he has decided to leave both Benighted and Abbath to move on and look for new musical projects. We're at the same time sad and happy for him, so proud of every moment we shared together for these last 10 years ! We'll miss you brother and wish you the very best for the future cause you deserve it more than anyone !!! The European tour with The Black Dahlia Murder will be his very last one with us and we count on everyone of you to show up at the gigs and show him your support! Brothers for life !
Kevin's statement :
"As a few of you might already know, I've been busy this year playing with the band ABBATH as a mysterious character called "Creature" (Sorry to disappoint you if you thought it was the amazing Baard Koldstad émoticône smile ). For some personal reasons, I've decided to leave the band.
Still, it's been a great experience and an honour to play all the band's shows so far and record the upcoming album in Sweden with Daniel Bergstrand. I'm really happy with the result. I love the songs, the sound and I'm proud of my drumming on this one. Thanks to everyone who has been involved in this project !
As for the near future, I will be touring for the last time ever with my brothers from BENIGHTED in January and February, opening for The Black Dahlia Murder all over Europe. It will be the best way possible to close a 10 amazing years long chapter of my life. These guys are my absolute best friends and I have no doubt that we'll have a lot of fun on this tour !
After that, it will be time for me to move on, look for new projects and do my best to keep making a living out of music. I'm looking forward to 2016 !"