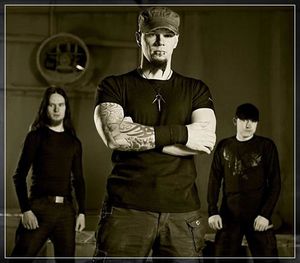 The band was founded in 1999 by Tuomas Saukkonen, as his solo project. He made the first demo all on his own. Upon releasing the EP "Gehenna", Saukkonen was offered many deals, but none serious enough for him to act upon. The next MCD, "My Darkness", was released to favorable reviews, and it was then that Saukkonen was confronted by Locomotive Music, who offered him a record deal. Joined by Panu Willman, Mike Ojala, and Kimmo Nurmi, the newly formed lineup released their first full length album, "My Darkness", in 2003. It was followed up by a second album in 2004, "4:17 am". The band supported Katatonia on a Scandinavian and European tour in 2003 as well.
In 2005, Saukkonen announced a new lineup for the band, removing all the members currently in, and bringing in Lars Eikind, Juho Räihä, and Dani Miettinen. The reason for this was that Saukkonen felt that the previous members of his band were badly motivated, and not professional enough. The newly reformed band released their next full length album, "The Ghost" in 2006.In 2007, the band released the next full length album, "Deadlight". The single Faithless, featuring Jone Nikula, reached Number Two on the Finland top 20 charts for the week of July 15, 2007.
During the recording sessions for the fifth studio album "Soundscape of Silence", drummer Dani Miettinen dropped out; the band decided to leave the position vacant and work with session drummers for live shows (e.g. Matti Auerkallio). Right after its release end of October 2008, "Soundscape of Silence" went to the top 20 of Finnish album charts (# 14).They were joined by Atte Palokangas for drums during the tour.