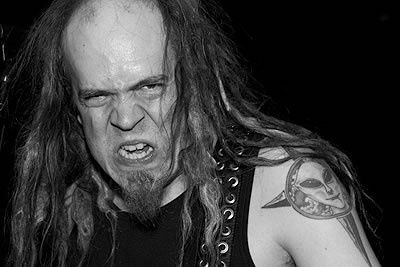 After announcing 6 UK dates for coming March 2011 already, The Devin Townsend Project now announces a full blown European tour which will see the band playing 25 shows in 13 different countries. Mr Townsend, being hard at work to put the final touches to the upcoming albums ´Ghost´ and ´Deconstruction´ (both tentatively scheduled for a May release), commented:
"After another busy, busy, year, we have set ourselves up for an even busier one… and to be honest, I wouldn't have it any other way. I have just recently finished Ghost (record 4, the mellow one) and am currently up to my balls in Deconstruction (record 3, the heavy one… for which we are using the Prague Symphony Orchestra to make more ridiculous than it really needs to be :) and I've yet to get my goddamn garage cleaned, so yeah… things are busy. I love it.
So I'd like to announce a European tour… it will be the first tour of many we are doing in 2011 and it starts March 3rd in the UK. It hits a bunch of spots in Europe, including some places I've never played but have always wanted to. I'm really, really, excited to play again, and we will bring new music as well as some special acoustic performances. The people who support it have been so gracious that it's a real pleasure to announce this. See you next year guys! I'll bring my gnarliest teeth and lumpiest head!"
The band is set to perform a mixture of tracks from all four DTP albums and the Dutch and Finns will get a real treat as long time friend and main guest vocalist on 2009´s ´Addicted´ record, Anneke van Giersbergen (The Gathering) will be joining the band on the last four dates of the tour to share vocal duties with Devin.
March 03 - The Brook, Southampton, United Kingdom
March 04 - The Fleece, Bristol, United Kingdom
March 05 - Rock City, Nottingham, United Kingdom
March 06 - Academy 2, Manchester, United Kingdom
March 07 - Garage, Glasgow, United Kingdom
March 09 - Grunspan, Hamburg, Germany
March 10 - Voxhall, Århus, Denmark
March 11 - Sticky Fingers, Gothenburg, Sweden
March 12 - Betong, Oslo, Norway
March 13 - Debaser, Stockholm, Sweden
March 15 - The Rock, Copenhagen, Denmark
March 16 - Tivoli, Utrecht, Netherlands
March 17 - Matrix, Bochum, Germany
March 18 - Moshpit Music Club, Naters, Switzerland
March 19 - Magazzini Generale, Milan, Italy
March 21 - Szene Wien, Vienna, Austria
March 22 - Roxy, Prague, Czech Republic
March 23 - Colos-saal, Aschaffenburg, Germany
March 24 - Biebob, Vosselaar, Belgium
March 25 - Elysee Montmatre, Paris, France
March 26 - O2 Islington Academy, London, United Kingdom
March 28 - De Boerderij, Zoetermeer, Netherlands
March 29 - De Kade, Zaandam, Netherlands
March 30 - Cable Factory, Helsinki, Finland

March 31 - Club Teatria, Oulu, Finland