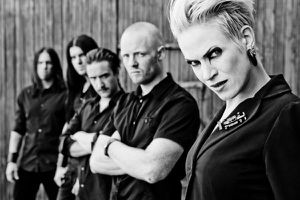 Djerv has just finished recording the video of their first single "Madman". Check it out here: www.youtube.com/djervmusic
Djerv are releasing their selftitled debutalbum June 17th (June 10th in Scandinavia)!
"It is very fun to finally release the album" says vocalist Agnete Kjølsrud. "We have been working with this for 18 months so its feels really good to finally get the album out there and hear the peoples reaction. It's something completely different to perform live when the audience knows the songs."
Djerv is a new band that appeared on the radar early 2010 who has, after a great number of awesome live shows and festival appearances, established themselves as one of hottest bands to emerge from the Norwegian rock scene this year. Djerv is now ready to launch their self titled debut album, and what an album it is. It sounds different.It`s aggressive rock, borderline metal and dangerously catchy! The Black Metal references are there, but first and foremost this is a modern Rock Album! Engineered by Daniel Bergstrand (MESHUGGAH, IN FLAMES)! Mixed by Matt Hyde (SLAYER, MONSTER MAGNET). Do yourself a favor and check out this album!
If you happen to be in Oslo tonight, June 3rd, you can catch the band live at their releaseparty at Revolver! For details go here - https://www.facebook.com/event.php?eid=182604035124190
DJERV LIVEDATES:
03.06 Revolver, Oslo (Pre-Release Konsert og Party)
04,06 Musikkfest Internasjonalen, Oslo
24.06 Steinkjerfestivalen, Steinkjer
01.07 Skippagurra Festival, Tana
08.07 Norway Rock Festival, Kvinesdal
29.07 RockArt Festival, Holmestrand
13.08 Øya Natt, John Dee, Oslo
19.08 Aronnesrocken, Tana
20.08 Driv, Debutuka, Tromsø