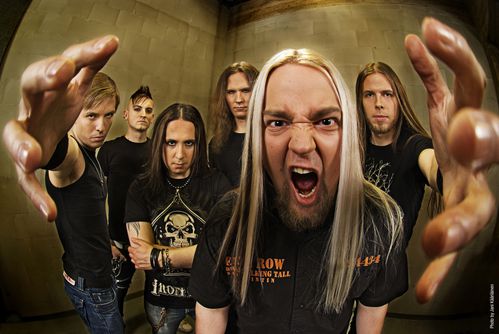 Once dismissed as the illegitimate cousins of fellow Finnish metal veterans Children Of Bodom, Norther have evolved to the point where making such comparisons calls the source into question rather than the band's music. Their sixth official album, Circle Regenerated, is a huge step forward into new territory in that it's the first album in the band's history that doesn't feature vocalist / guitarist Petri Lindroos front and center. Replacing him with former Imperanon frontman Aleksi Sihvonen and Naildown guitarist Daniel Freyburg were two of the most important moves of Norther's career, and while it may sound like the kiss of death to some followers, the fact is Circle Regenerated will leave the entire fanbase wanting more.
Officially launched in 2000, Norther greeted the world with their twist on death/black metal, Dreams Of Endless War, in 2002. Two albums followed over the next two years - Mirror Of Madness (2003) and Death Unlimited (2004) - but it wasn't until the unexpected EP, Solution 7 , issued in 2005 that Norther were finally regarded as a band with something brutally original to offer. Guitarist Kristian Ranta stepped out of the shadows to become Norther's clean vocalist, the second voice adding a new dimension to the band's sound as a contrast to Lindroos. It was an experiment that served them well, garnering more attention with Till Death Unites Us (2006) and in particular 'Frozen Angel' from the No Way Back EP in 2007, a song featured as part of a major promo campaign for the Finnish film, Vares 2.
Even as things moved forward in 2008 with a new album, simply entitled N, Lindroos had to divide more and more time between Norther and Finnish folk metal act Ensiferum, whom he had joined in 2004 as their frontman. Things came to a head in February 2009 and Lindroos was let go in favour of finding a new frontman capable of giving 100% to Norther.
Circle Regenerated is the end result.
Now a six-piece serving of melodic death mayhem, the band returns loaded up with riffs and hooks, churning out the most dynamic album of their career thus far. And while that may sound like cliché music industry lip-service, for every trademark bar of shred on the record there is an echo of diversity. Opening track 'Through It All' is instantly recognizable as Norther, on tap to introduce Sihvonen and Freyberg as being up to the challenge of fitting in. From the moment 'The Hate I Bear' kicks in, however, all bets on what to expect are off. Musically the album is tighter, punchier and more aggressive than Norther's previous outing, punctuated front to back by switched-up solos and individual show-stopping moments from Ranta, Freyberg and Planman (see 'Truth'). Sihvonen's whiskey-and-razors execution is perfectly suited to the new songs; if he's not growling up a storm he sings a gritty clean, effectively adding a third voice to an already lethal mix of weapons. That said, Norther aren't above adding hints of acoustic guitar ('Some Day'), slowing
EU street date: April 18th, 2011
things down to almost balladic proportions ('Falling'), and backing vocal arrangements ('The Last Time') to keep people wondering "What the hell comes next?"
At no time does Circle Regenerated slow down, however. This is the quintessential Norther album; bigger, meaner and uglier than ever, and it only lets up if you have the balls to turn it off.