ROTTING CHRIST have announced a massive string of European shows from spring to autumn 2017, which will cover sixteen different countries.The band comments: "Friends, we are proud to be able to present our latest album 'Rituals' once more to you. Your support and enthusiasm is what keeps us going. We are extremely excited and looking forward to see you again on the road!"For interview and press-list requests regarding ROTTING CHRIST, please contact Season of Mist. A list of all confirmed shows can be viewed below.
09 Mar 17 Bari (IT) Demode Club
10 Mar 17 Roma (IT) Traffic Club
11 Mar 17 Bologna (IT) Alchemica Club
17 Mar 17 Bielsko Biala (PL) Rude Boy
18 Mar 17 Prague (CZ) Hellenic Darkness Festival
20 Mar 17 Bohinjska Bistrica (SI) Winter Days of Metal
25 Mar 17 Athens (GR) Peiraios Academy
08 Apr 17 Iraklion (GR) Milos
29 Apr 17 Catania (IT) Southern Storm Festival
02 Jun 17 Aachen (DE) Musikbunker
03 Jun 17 Leipzig (DE) Wave Gothic Treffen
06 Jun 17 Kosice (SK) Coloseum
09 Jun 17 Hauptmannsgrün (DE) Chronical Moshers Open Air
10 Jun 17 Wroclaw (PL) Firlej
11 Jun 17 Poznan (PL) U Bazyla
13 Jun 17 Wiesbaden (DE) Schlachthof
14 Jun 17 Osnabrück (DE) Bastard Club
15 Jun 17 Arnhem (DE) Willemeen
16 Jun 17 Dessel (BE) Grasspop Metal Meeting
17 Jun 17 Drachten (NL) Iduma
18 Jun 17 Lille (FR) TBA
21 Jun 17 Freiburg (DE) TBA 
22 Jun 17 Essen (DE) Turock
23 Jun 17 Ferropolis (DE) With Full Force
24 Jun 17 Oslo (NO) Tons of Rock
14 Jul 17 Dunauyvaros (HU) Rockmaraton
29 Jul 17 Viseu (PT) Viseu Rockfest
05 Aug 17 Tampere (FI) Saari Helvetti Festival
10 Aug 17 Graz (AT) Metal on the Hill
12 Aug 17 Jeromer (CZ) Brutal Assault
18 Aug 17 Falun (SE) Lugnet (Sabbaton Open Air)
22 Sep 17 Zaragoza (ES) Iberian Warriors
06 Oct 17 Brighton (UK) Mammoth Fest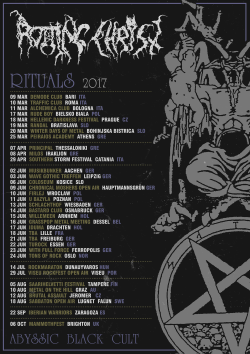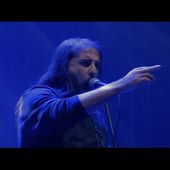 ROTTING CHRIST-In Yumen Xibalba-(Official Live Video)
Recorded in Masters Of Rock Festival on the 14th of July 2016 in Vizovice Czech Republic -Song taken from the album ΚΑΤΑ ΤΟΝ ΔΑΙΜΟΝΑ ΕΑΥΤΟΥ -Musicians Appeared on this clip: Sakis-Guitars & Vocals / George-Guitars & Backing Vocals / Van-Bass & Backing Vocals / Themis-Drums -We thank the whole Maters of Rock team for the permission and their great attitude to their bands!
Pour être informé des derniers articles, inscrivez vous :